Where to begin…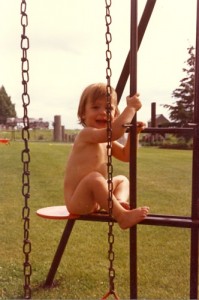 That may be too far back…although she really hasn't changed all that much.  I think she lives on Fairview because there is a swing set across the street.  We used to find her like this often.
Jill has a rough night…they were trying to get the pain under control.  She had some bad muscle spasms in her abdomen which they said is not uncommon.  They upped her dosage and gave her some additional muscle relaxers which seemed to help.  She still didn't sleep over 5-10 minutes at a time.  There was a very annoying alarm that went off every few minutes because of the arterial line they had in for surgery.  That was removed this morning so hoping tonight is better.
She stood up for about 3 minutes early this morning during the nurses shift change.  Obviously she got a little dizzy but did great.  They got her up and into a chair a few minutes ago and will get her up this afternoon to make her start walking the halls.  They want her as active as possible so pneumonia doesn't skulk in.
Jill's friend and inspiration Teri Griege was actually just down the hall  from her last night after having ablation surgery on 3 tumors on her liver.  She stopped in this morning for a visit.  We fully expected to see Teri jogging the halls this morning with her IV stand following behind her!  She's amazingly tough.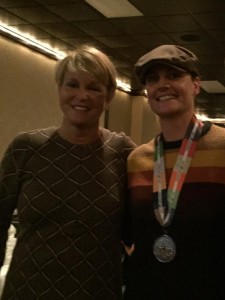 The doctors did their rounds early between 5:30 am and 7 am.  Dr. Hawkins said the tumors he removed showed signs of necrosis… which is great!  That indicates the chemo is working on killing the tumors.  He said she will have more scans in 6 weeks, then mostly likely go onto another round of chemo.  He will do a portal embolism during the next round of chemo to start killing the right side of her liver and growing the left side which is now free of tumors.  After the next chemo round she will have another break and then the surgery to remove the entire right lobe.  He's a very aggressive no nonsense doctor which is exactly what Jill needs.  Unfortunately he is heading to NY this weekend because his father is also have a cancer scare.   Hoping all is ok there.
Thanks for all the texts, Facebook posts, and cards.  Keep the prayers and good vibes flowing her way!