Sorry, didn't get around to blogging yesterday because we were planning shenanigans for outside Jill's room.   The show started with a reenactment of the scene from Say Anything….thank goodness Rebecca has been doing Crossfit!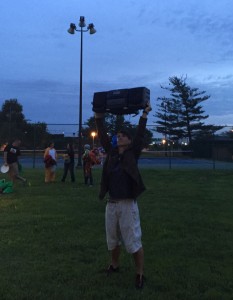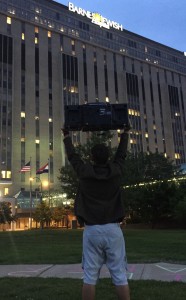 Jill's football number was 26…I know most of you probably thought we did this because she's had 26 concussions over the years playing 10-dollar bet!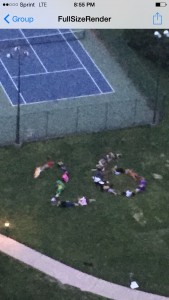 She got the epidural out yesterday which is good because she's not hooked up to anything so she is free to walk the halls without dragging anything behind her.  It's very painful for her to laugh so we're trying to keep the humor at a minimum….which has proven to be very difficult. We tried playing a prank on Panther Dan earlier today by putting a fake pile of poop under her sheets.  The plan was for her to pretend to pass gas and have him check under the sheets and find the poop.  It backfired…Jill starting laughing and it hurt her stomach….we jumped the gun on that one…but we did get this sweet pic!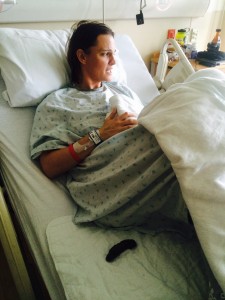 Jill's been watching the nightly antics from the 16th floor.  The tennis courts  were full of lovely "characters" last night.

Yesterday ended with a visit from the Cat in the Hat from Medicine Hat – Panther Dan and Leonardo the Ninja Turtle – Rebecca.  The hospital staff has been quite entertained by the random events that have played out this week.  Here's one of Jill's nurses last night.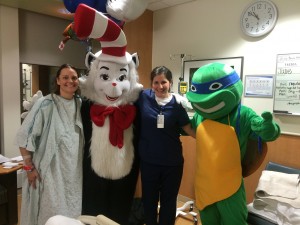 She may get released tomorrow or Tuesday believe it or not. Thanks for all of the support! Keep sending her prayers and good vibes it's working!