So I've had a lot of time on my hands being off work and all…I've found myself watching a lot of TMZ and reading People Magazine articles which is unusual for me.  I must admit that I've been very intrigued by all of media around the Bruce Jenner transition to Caitlyn.
I began to wonder this week what I would look like if I transitioned…don't fret Panther Dan and P. Kitty…I'm not transitioning into the son you've always wanted…but seriously…this is what I would look like on a bad day.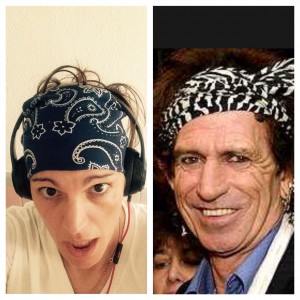 And maybe on a good day…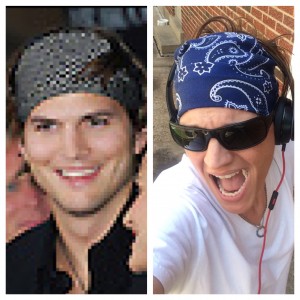 Being a guy would have it's benefits…especially this week since I found out I was pregnant!  Oops…it's actually not a baby it's just a little cancer on an ovary (not to be confused with ovarian cancer-NOT AT ALL THE SAME). It had just spread there too!!!! YAY!!!
Just when we thought two cancer locations were a crowd, I'm having a threesome!  My colon and liver are not happy since the ovaries have already been ripped from my body…now they can't play together.
Oh well, I've got to give a shout out to Dr. Gray-Swain (OBGYN see link) and Dr. Andrea Hagemann (OBGYN Oncologist surgeon) for catching that one and doing a full hysterectomy during my surgery.  At the follow up appointment today Dr. Hagemann confirmed the pathology report from surgery that the right ovary had metastatic cancer.  Good that we caught it. It was very small, but present. I had already read the pathology report the day before online, so we wanted to thank Dr. Hagemann for all of her great work.
Poor Dr. Hagemann though, she will never be the same. 
For some reason, a stop was made in the gift shop at the Center for Advanced Medicine before my appointment…it was there, that the decision was made that we should buy some of THESE to hide under the sheet to surprise Dr. Hagemann when she went in for a closer look of my lady parts.
This movie should tell you the whole story…
I (JILL), have got to interject here. This video… Ugh!
I would just like to point out that there was an epic failure by the cameraman in this video!!! Little miss perfect really blew it!! Big mistake, HUGE!!!
Dr Hagemanns reaction was awesome, by the way. First a look of terror and extreme confusion, stepping back away from the table, as there was sound and no visual yet.  When I flipped up the sheet a little, laughing, she came forward, curious, but still cautious. As she looked under the sheet and saw the, now resting, teeth, her head snapped back with her mouth agape in a silent smile of shock.  I was laughing, Angela too. I pointed at Angela and said "she made me do it!", Dr Hagemann whipped her head around to angela, now laughing pretty hysterically also.
She informed us that it was a "first", which we were pretty proud of. She also told us we had just made her day. Not many patients can claim that.
Shes so amazing!!
I've been trying to decide how to tell everyone this great news…we thought birth announcements would be nice.  Of course we actually got a picture of my uterus to include on the announcement!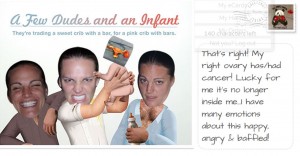 My ovary was born to rock for sure…stay tuned for my next adventure.