Well….I always knew this day would come…but I naturally assumed it would be caused from drinking copious amounts of alcohol…today is the day I officially killed half of my liver!  Definitely an occasion to dress up for!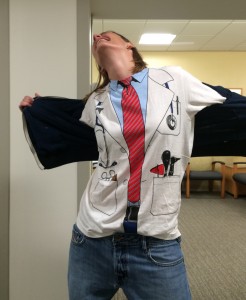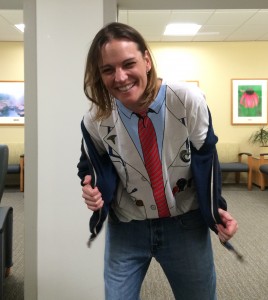 Contrary to popular belief…killing a lobe of your liver with a portal embolization is a lot faster than drinking with the Gayborhood in the Tiki Bar everyday of your life.
The 2 hour surgery was performed by a interventional radiologist and consisted of inserting a needle into the right lobe of  my liver…something I completely recommend that everyone try on their enemies at least one in their lifetime…it was not on my bucket list.
A catheter was inserted into the needle  that contained a hardening type substance they put into the portal vein. This substance hardens and blocks the blood flow  to the right side…causing what the doctor described as a "heart attack" in the right lobe…which sends extra nutrients to the left side to make it grow…grow lefty!
It's true folks…my liver suffered a heart attack today! Like…who can even say that?!  I must be special…so much so I have received the following awards by Barnes Jewish Hospital…
1.  Patient of the Year – January 2015 to Present
2.  High Pain Toleranxe (high pain in the ass also)
3.  Most Liver Lesions (currently at Barnes)
4.  Most Organs Resected/Removed in One Surgery – May 19, 2015
5.  Most Likely to Cause Nauseau and Vomiting in Nurses – 1978 to Present
6.  Honorable Mention – Most Accurate with Bed Pans – 2015
7.  Most Likely to Confuse Colastamy Bag with a Chocalate Pudding Snack Pack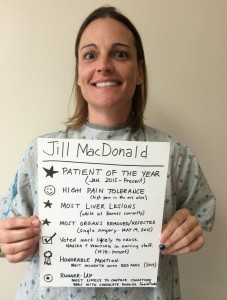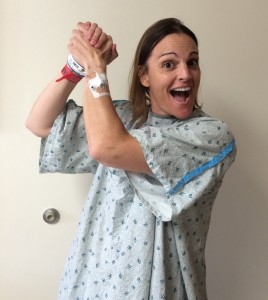 My parents will be so proud! Panther Dan and P Kitty you raised a real winner!
I'll be in the hospital overnight and have been given this advice for my recovery in the week to come.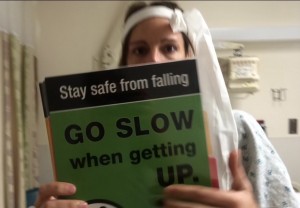 Going slow takes time…so to ensure I monitor myself I stole this lovely clock from the 14th floor…rolling like Flava Flav!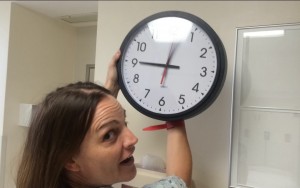 Assuming all goes as planned, my next surgery will be in 6-8 weeks.  It will be a big one…to remove the whole tumor filled right side of my liver that we murdered today.  As Dr. Hawkins says…tumors can not hurt you if they're in a bucket on the floor!
He's a very no nonsense doctor…you will be happy to know that he writes children's books too! If anyone is interested…one is called "Don't Cry You Sissy!" and the other one is "There's No Excuse to Be #2 – You're the First Loser!"
His own autobiography, "How Dodge Ball Changed My Career Path – Surgeons Rule" should be out any day now.  I hope he mentions me in the acknowledgment section.
Anyway…he motivates in special ways no other doctor has….he treats my liver like a punching bag and I keep coming back for more!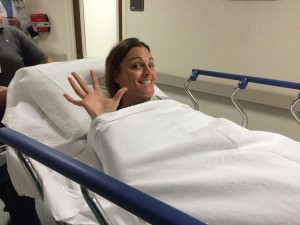 Cheers! Thanks for all the love and support!