Chemo #12 is NOT in the books folks, that's right, it was a no go because my white blood cell count was low today.  Let me be clear… not as low as my tolerance level for babies screaming on long flights or of people who pick their noses at stop lights…but low enough that they want to wait until Tuesday. Amazingly, The Captain's blood alcohol level was higher than my white blood cell count this morning… well… maybe not that surprising.
Every time I turned around the Captain was sleeping (or slipping on banana peels). I guess she had a long night:
She even fashioned a protective breathing mask into an eye mask, to ward off the evil light that seemed to make her hangover worse. Quite impressive.
As for the low WBC's, I haven't felt great this week so I may be fighting something off…who knows.  Do my tonsils look ok?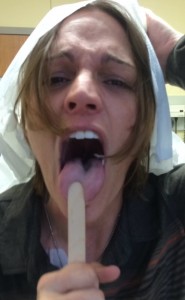 It really only hurts when I jump on trampolines in cowboy boots…ride llamas backwards at Grants Farm…or when laugh… like this… and sometimes laughing like this makes me get gum in my hair…which is very annoying.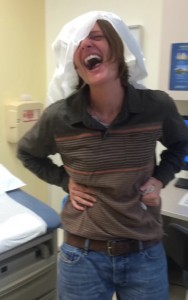 A weekend reprieve isn't such a bad thing…I'm "not so secretly" happy, actually because now I can frolick around freely all weekend like a red lipped bat-fish in an ocean reef…yes it's a real thing.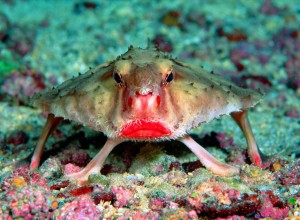 Lovely lips don't you think? It was a long appointment this morning regardless because we got stuck in a room waiting to be seen…which of course can get quite boring after your 1,000,456th doctor's visit in 10 months…not that I'm counting. We tried playing games…like peek-a-boo.  I mean I'm not sure why kids like that game so much…I got bored after like 35 minutes and the Captain quit getting scared when I peeked out after 30 minutes.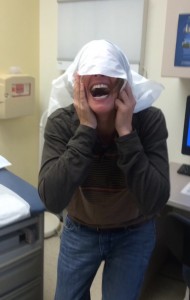 I decided if I could only create a diversion in my room the doctor would surely come in quicker to check on me… loud popping noises perhaps?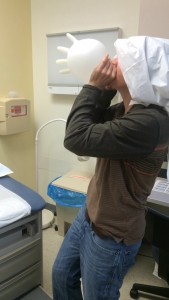 Apparently the staff at the Siteman Center is used to hearing loud popping noises…I guess it is St. Louis after all they probably just thought it was gunfire or fireworks… needless to say they didn't come to check on me any faster. We got bored with that game too after the 67th glove exploded… but then the great idea of filling one with the foam hand sanitizer came to mind!  Who knew how bad it burns in the eyes and how bad it tastes?
Here is a frame by frame recap: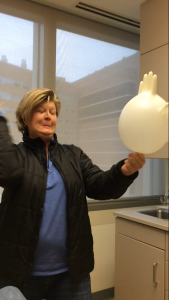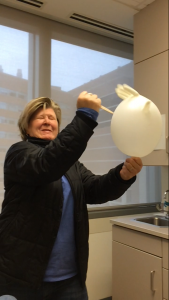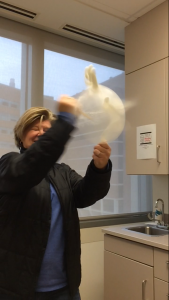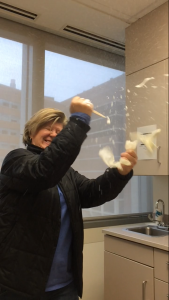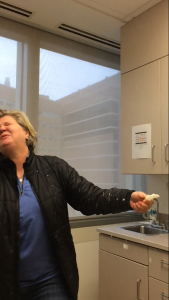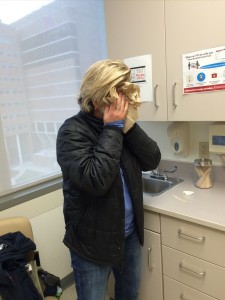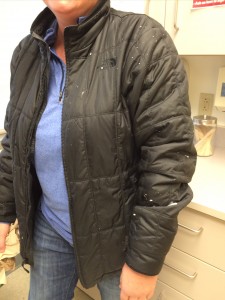 This is the first room we've been in that didn't have an actual "eye wash station"… luckily the sink worked just fine. 
I mean, look at her jacket. The entire room was covered in spray from that stupid idea. What an idiot. The room has never been cleaner since we left…
Anyway, we'll try again on Tuesday and hopefully that will be my last round of chemo for quite awhile… at least until after I recover from surgery. Anyone that can make it to our Halloween Party at the Top of the Met  on October 31st, here are the details or go to my Facebook page.